Wine Selection
Shop Our Catalog by Varietal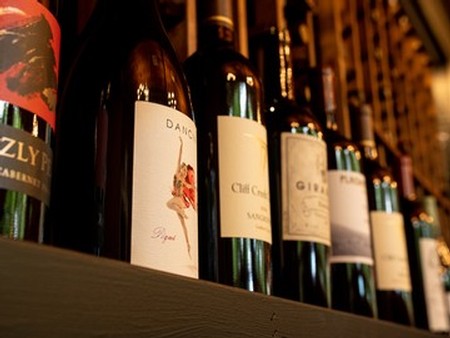 ---
Featured Wines of September
Available for Bottle Purchase, Glass Pour, & Flight
Spanish Flight
---

IPSUM
Verdejo 2020
Verdejo has been grown in and around the Rueda region since the 11th century, but was neglected in recent years as growers became attracted to international varieties such as chardonnay and sauvignon blanc.
Referring to this wine's transparency and authenticity, "Ipsum" ("itself" in Latin) is aged in stainless steel tank without undergoing malolactic fermentation. A lovely example of 100% verdejo from Rueda, this white is aromatic and fruit-laden, with a vibrant core of acidity that gives freshness in youth. Organically grown, vegan.

NAI
Albariño 2020
Albariño or Alvarinho is a variety of white wine grape grown in Galicia and Northwest Portugal, where it is also used to make varietal white wines. Albariño is the Galician name for the grape; in Portugal it is known as Alvarinho, and sometimes as Cainho Branco.
Medium-high intensity. Notes of aromatic herbs, mint, citrus fruits, tropical fruits (lychees), Bartlett pears and apples. Round, fat and very fruity, with a nice acidity.

HERÈNCIA ALTÉS
Garanatxa Negra 2018
Grenache or Garnacha is one of the most widely planted red wine grape varieties in the world. It ripens late, so it needs hot, dry conditions such as those found in Spain, where the grape most likely originated.
Bright crimson in colour, this wine is very expressive with notes of red fruits and minerals that leap from the glass. Plenty of fruit on the palate, a touch of complexity and sweet tannins. Pairs well with grilled meats, cabrito and lamb.

GRANZA
Tinta De Toro Roble 2016
Tinta de Toro is a Spanish grape variety grown in the region of Toro in central Spain. This variety is a strand of Tempranillo that dates back to the Roman times around the 2nd century B.C. This strong, dark-skinned grape grows in compact bunches of medium sized berries. Due to the extreme climate conditions, the vines grow low to the ground and yield less fruit, however the fruit formed is full of flavor and character.
This Tinto de Toro is a complex wine with intense dark cardinal color. It has black fruit aromas and intense, elegant and balanced with a long harmonious finish. Enjoy with red meats and game, cured cheese, stew. Only indigenous yeasts is used.
---
Featured Wines of September
Available for Bottle Purchase, Glass Pour & Flight
Spanish Grapes of the Rogue Valley Flight
---

Dana Campbell Vineyards
Verdejo 2018
This wine is known for its lemon and citrus nose, minerality and acidity.
It has a floral, green apple nose and more of a lemon grass, lime flavor that finishes with a smooth starfruit and honeysuckle taste.
Refreshingly crisp, dry, light and has a bit of classic lemony citrus flavor pairing well with spicy foods, fish and shellfish.


Awen Winecraft
Albariño 2018
This 2018 Albariño fruit is sourced from Schmidt family vineyards in the heart of the Applegate Valley. Aromas of pear, honeycrisp apples and apricots lead the way to tastes of lemon, nectarine, fresh bay leaf and crisp green apples. The backdrop to this beautiful wine is a crisp yet smooth texture and salinity reminiscent of a walk through an ocean forest to a cliff by the sea. Is that a mermaid sending up her siren's call from the sea below? No, it is just another Awen wine inspired moment with our 2018 Albariño.

Peter William Vineyard
Grenache 2018
Bright soft Cherry fruit on both the nose & palate, with a delightful hint of spice. Grenache is the classic grape of the Southern Rhone, predominant in most wines from Chateauneuf-du-Pape and other surrounding regions. The grapes are from our hillside estate vineyards.

Jaxon Vineyard
Tempranillo 2016
Tempranillo is a black grape variety widely grown to make full-bodied red wines in its native Spain. Its name is the diminutive of the Spanish temprano, a reference to the fact that it ripens several weeks earlier than most Spanish red grapes.
Vibrant dark cherry fruit elevated by hints of cola, cinnamon toast and subtle earthiness.


ON TAP
available for glass pour and growler fill
Quady North GSM Rosé
South Stage Cellars Pinot Noir
Quady North Malbec
The Rogue Grape Bordeaux Blend
Peter William Tempranillo
Upper Five Sauvignon Blanc
Pelican Pilsner
pFreim I.P.A
---