Wine Selection
Shop Our Catalog by Varietal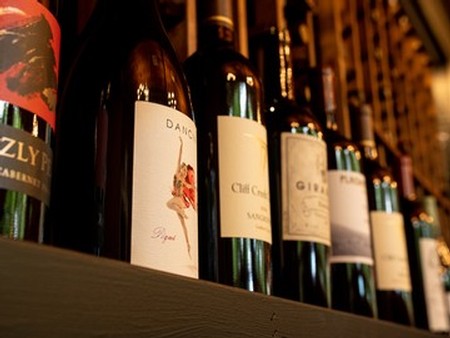 ---
Featured Wines of November
Available for Bottle Purchase, Glass Pour, & Flight
Wines of Italy
---

Guerrieri Rizzardi Soave Classico
Classico" designated Soave is a relatively rare thing to find nowadays, representing only 15% of the Soave region's production – "Classico" designated wines are sourced from the (far superior) original hillside plots that were the zone's standard prior to the massive/controversial expansion of the DOC in the 1970's.
Grapes are sourced from two "cru" vineyards – Costeggiola (limestone soil) and Rocca (volcanic soil). The Garanega here is picked when extremely ripe, the Chardonnay is picked early to provide acidic balance, the ancient vine Trebbiano d'Soave lends some heirloom charm.
Fermented/aged in cement, lees aging provides extra texture. While some of Rizzardi's peers in the top echelon of Soave Classico focus on aromatics, Rizzardi's Soave has always been about palate detail and mineral character.
Varietal Composition: 75% Garganega, 20% Chardonnay, 5% Trebbiano di Soave
Elaboration: All grapes destemmed then follow alcoholic fermentation in cement vats for 10 days at between 59 to 61° F. No malolactic fermentation. Aged several months on lees in cement and stainless steel tanks.
Tasting Notes: The estate Soave gives fresh, cool climate fruit on the nose leading into the palate which is light in body, but with good density of fruit. Again cooler citrus and pear fruit and an underlying refreshing mineral character persist on the palate.
PRODUCER BACKGROUND
Guerrieri-Rizzardi, the historic house in Veneto, dates back to the unification of two ancient estates in 1913, when Carlo Rizzardi from Valpolicella, married Guiseppina Guerrieri of Bardolino. From the 1950s Antonio Rizzardi managed and developed the estates, focusing on viticulture and in the 1970s he acquired the estate in Soave. 2011 saw the opening of the new winery on the hills of Bardolino. The result of a long-term plan to re-locate and modernize the entire production process. Rizzardi's new winery is completely solar powered, combining the best that technology offers in a carbon neutral way with vineyards that have been in the family for centuries. With extensive holdings of "cru" acreage, the family is well known throughout Europe for their sensational, mineral rich example of Soave Classico, the tension driven Ripasso they produce from Pojega, and most importantly for making one of the most classical and age-worthy examples of single vineyard Amarone in the region.

Ca' Gialla Nebbiolo Langhe
An elegant example of Nebbiolo, and a perennial value here at Grape.
Varietal Composition: 100% Nebbiolo
Elaboration: Early October harvest, hand picked grapes. Two week maceration, fermentation in steel, with aging in used barrels.
Tasting Notes: Good body, strawberry and cherry on the palate, nice length, medium tannin.
PRODUCER BACKGROUND
Marco Porello is the third generation of his family to produce wines in Roero. The family owns 15 hectacres of vineyard land in total, all highly regarded locations in two of Roero's twenty-three villages…The marine clay based Mombirone in the village of Canale, and Tanone in Vezza d'Alba, which is a sandy, limestone-rich site.
All wines are farmed naturally without the use of herbicides or pesticides – Marco is working towards organic certification. Ca' Gialla is the nickname of the house where Marco's cellar is located.

Colterenzio Schiava "St Magdalener"
This wine takes its name of the vineyard where the grapes are grown.
With wonderful aromatics and soft tannins, this Schiava is a great summer red. Served slightly chilled.
Varietal Composition: 95% Schiava (Vernatsch), 5% Lagrein
Elaboration: Fermentation occurs with the skin contact in stainless-steel tanks and is followed by malolactic fermentation. The wine is then separated from the skins and transferred into concrete tanks, where it refines for four months.
Tasting Notes: Brilliant translucent ruby red in color with a fruity bouquet reminiscent of black cherry and violets expanding to a medium-bodied palate of red summer fruits; a succulent wine with mild acidity, medium length, and a soft and smooth finish.
PRODUCER BACKGROUND
Colterenzio is one of the newest wineries in South Tyrol, composed of over 300 families working together. This is a new-generation cooperative that smashes preconceptions, proving that a humble "coop" can consistently deliver some of the most transparent, expressive wines in the top flight region of Alto Adige.
Member-winegrowers farm their grapes on a total of 300 hectares; the vineyards are located in one of the best wine growing sub-districts of Alto Adige, on altitudes ranging from 230 to 650 meters with 12 different varieties cultivated. Ecology is a driving principle here – Farming is sustainable and the winery was built with permaculture in mind.

Castello di Meleto Chianti Classico DOCG
The grapes for this wine are sourced from 3 different vineyards to bring more complexity and balance to the finished product.
Planted in 2002, the Meleto Vineyard is located closest to the castle. Reaching an altitude of 370 meters, it is the hottest and most sheltered from the wind with the soil being mostly clay and rich in stone. The soils here consist of Alberese, Arenaria, clay, and Galestro.
Planted in 2000, the Poggiarso Vineyard's unique possitioning provides this site with extreme climatic conditions as do the slopes of the vineyard which reaches an altitude of 530 meters. The Sangiovese yields are low in this vineyard but produce high quality wines with noteworthy aromas thanks to the temperature changes between day and night, especially during the summer months. The soil is clay with large amounts of limestone and marl.
Located in the valley below the medieval village of Vertine at an altitude of 420 meters, the Casi Vineyard is surrounded by wooded land, ensuring the temperate climate of this vineyard. Original plantings began in 1998, Sangiovese, cultivated using the traditional alberello vine training method, is the main variety planted here and finds the combined conditions of hot soil and cool climate, ideal. The soils here consist of clay, sandstone, and galestro.
Varietal Composition: 100% Sangiovese
Elaboration: Grapes are harvested by hand, destemmed and gently crushed before undergoing spontaneous alcoholic fermentation in stainless steel tanks at a controlled temperature of 25/28°C for a period of 15 to 20 days. After racking, the wine undergoes malolactic fermentation in concrete tanks. The wine then ages for 15 months in 54 hl Slavonian oak barrels.
Tasting Notes: Deep ruby red. Marked notes of cherry, typical of the grape, with hints of floral and spice. Velvety, enveloping palate with rounded tannins. Good structure with an excellent balance and long full finish.
PRESS
2015 – 90 Vinous | 92 Wine Spectator
2016 – 92 Wine Spectator
2017 – 90 Wine Spectator | 91 James Suckling
2018 – 91 James Suckling | 92 Vinous
PRODUCER BACKGROUND
Castello di Meleto produces wines exclusively from estate-owned grapes. 70% of the grapes are harvested by hand, a choice influenced by two factors: the slope of land that at points reaches extreme levels and the commitment to selecting only the best fruit. With vineyards extending over 160 hectares, only the best grapes are selected for the wines bearing the Castello di Meleto brand. The bunches destined for these flagship wines undergo a rigorous first and second selection: the first in the vineyard at the time of harvest and the second on the sorting table, where each bunch is manually checked by expert operators. Perfectly healthy grapes allow for reduced sulfur dioxide use and spontaneous fermentation, triggered by indigenous yeasts present on the grapes. This reflects Castello di Meleto's commitment to respecting the work carried out in the vineyard and minimally intervening in the cellar.
Featured Wines of November
Available for Bottle Purchase, Glass Pour & Flight
Local Blends
---

Awen Winecraft
Inspiration Blend
2017
54% Rousanne, 22% Marsanne, 17% Viognier and 7% Grenache Blanc
Alcohol 13.7%
At Awen we produce limited runs of boutique wines designed to reflect the beauty and bounty of Southern Oregon. Our wines exemplify the bond between the Earth, the Sun and the Vine.
Our 2017 Inspiration Blend unites four classic Rhone varietals sourced from some of the finest growers in southern Oregon. Starting with aromas of pear, ripe pineapple and a hint of white pepper, the palate finds pear, apple and juicy peach notes. This blend offers balanced acidity, a plush mouth feel and a lingering finish.
Drink Deeply, Drink Local, Drink Awen.
110 Cases Produced

2Hawk Vineyard & Winery
Plume Blanc V.2
43% Sauvignon blanc, 30% Chardonnay, 19% Muscat, 8% Viognier
Alcohol 13.9%
Delightful, refreshing wine that is versatile, harmonious, and, above all, delicious. Naturally balanced acidity and ripe fruit flavors of guava, melon, peach, and pineapple which best to highlight in a flavor package that features those vibrant fruits along with a slightly off-dry finish

Peter William
GSM
2018
51% Grenache
45% Syrah
4% Mourvèdre
Alcohol 14.9%
Gold Medal – 2021 McMinnville Food & Wine Classic !!!!
Inspired by the blends of the Côtes du Rhône & Châteauneuf-du-Pape, this is a typical Southern Rhone blend of Grenache, Syrah, and Mourvèdre.

Del Rio Vineyard Estate
Claret Reserve Red Blend
2018
A classic Bordeaux style blend, our Del Rio Claret is an elegant composition of 60% Merlot, 30% Cabernet Sauvignon, and 10% Malbec.
Alcohol 14.2%
Tasting notes
Complex and rich, this wine boasts deep flavors of red raspberry and ripe strawberry, and herbal elements of thyme and rosemary. Framed with toasty oak notes and balanced tannins that provide structure for this rich and elegant blend. Intricately designed for enjoyment now or to be cellared for aging.
Winemaking
Each of the three varietals comprising the Claret; Merlot, Cabernet Sauvignon, and Malbec are processed, fermented and barrel aged separately. Our Bordeaux wines are all barrel aged for 15 months in 95% French oak and 5% American oak, of which 30% is new oak. After barrel aging our winemaking team crafts the perfect blend, using the four grapes as building blocks to a complete a delicious masterpiece.
ON TAP
available for glass pour and growler fill
Quady North GSM Rosé
Upper Five Sauvignon Blanc
La Bella Prosecco
Quady North Malbec
Peter William Tempranillo
Pelican Pilsner
pFreim Hazy I.P.A
---