Benguela Cove Backbone Syrah Walker Bay 2018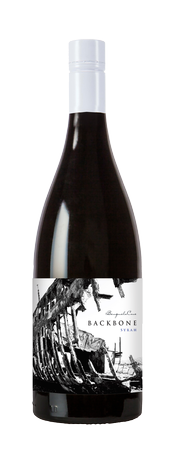 This Syrah comes along with fresh dark fruit, hints of pepper, sweet spice and a touch of tar. Though the wine offers darker notes, it isn't heavy and finishes on light herbal flavors.
The structure in this wine is foudre wooden vats.Born from vines braving extreme weather conditions on the ocean's edge, the cool climate being the backbone that defines character, preserves gentle aromas and aids longevity. Apart from its deep and attractive colour, the style delivers on freshness and balance that leaves you wanting more. Fermented in stainless steel, aged in foudre
Benguela Cove is part of the Benguela Collection of properties, owned and operated by Zimbabwean born, British/South African Entrepreneur Penny Streeter OBE and her family. Benguela Cove is the jewel in the crown of the collection. This unique maritime Walker Bay farm boasts one of the closest vineyards to the sea and the fresh Atlantic Ocean breezes help to produce exceptional fruits which our award-winning winemaker Johann Fourie and his team turn into fine estate wines. Benguela Cove is the largest producer in Walker Bay.
Product Reviews