La Chapinière, Touraine Gamay 2019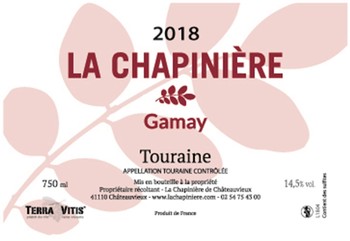 Nose:
Plenty of primary fruit tones, exactly as we can expect from the Gamay. The resemblance to Beaujolais wines is there…
Subtly smoky and fresh pepper, but we can't help but notice that red fruit (cherries, raspberries) are dominant.
Palate:
Wonderfully cool and invigorating start. Light-hearted but certainly not lacking in character. In a pleasant way, the wine has some looseness, the tannins are of the most refined kind, they seem to want to tickle the mouth. The alcohol percentage at 13.5% is not small considering the grape and origin, but it is by no means present as a dominant factor.
Wine Profile
Vineyard Notes
This wine comes from different plots with varying exposure. The sticks are on average 26 years old, the bottom consists of solid clay and flint. The vineyards are located about 200 meters above sea level. The plots receive a lot of morning sun in particular.
Food Pairing Notes
Ideal lunch and summer wine: absolutely perfect as a red accompaniment to fish in almost all conceivable preparations: baked, roasted, from the oven, steamed, smoked, etc. White meat such as free-range chicken, rabbit, pig. Outside the meal as red terrace wine with some dried sausage, dry ham, olives, roasted almonds, mature cheese.
Product Reviews